FINE ART OF ERECTIONS  
Gruenholtz is renowned for his stunning artistic photography of the male form. Following the great success of his first photo book "Uncensored," he turns his attention to the natural beauty of the erect penis. Even today, this subject matter is considered off-limits for "art." Gruenholtz reclaims the erection as something worthy of the artist's attention. His timeless and elegant pictures show erections as they occur throughout the day–spontaneously and instinctively. The photographs in this book present erections as extemporaneous events: a pure phenomenon of nature that is artistic, unapologetic and beautiful.
FINE ART OF ERECTIONS – CALENDAR 2023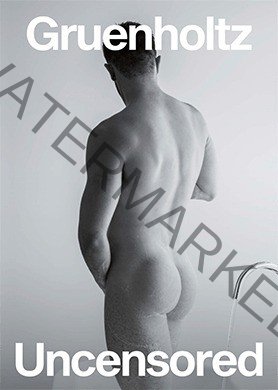 UNCENSORED
My Year Behind the Scenes with Michael Lucas and his Models
In this unique collection of black and white photography, acclaimed artist Gruenholtz has accomplished something very rare in male erotica. In the style of a classic fine-art photo documentarist, he captures the fascinating world of gay adult entertainment with virtuosity and sensitivity. His beautiful "behind-the-scenes" photographs, simultaneously frank and lyrical, constitute a compelling long-form portrait of Michael Lucas and his models over the course of an unprecedented year-long creative journey. Shot on location in New York, Fire Island, Puerto Vallarta and Barcelona.